Featured Customer of the Month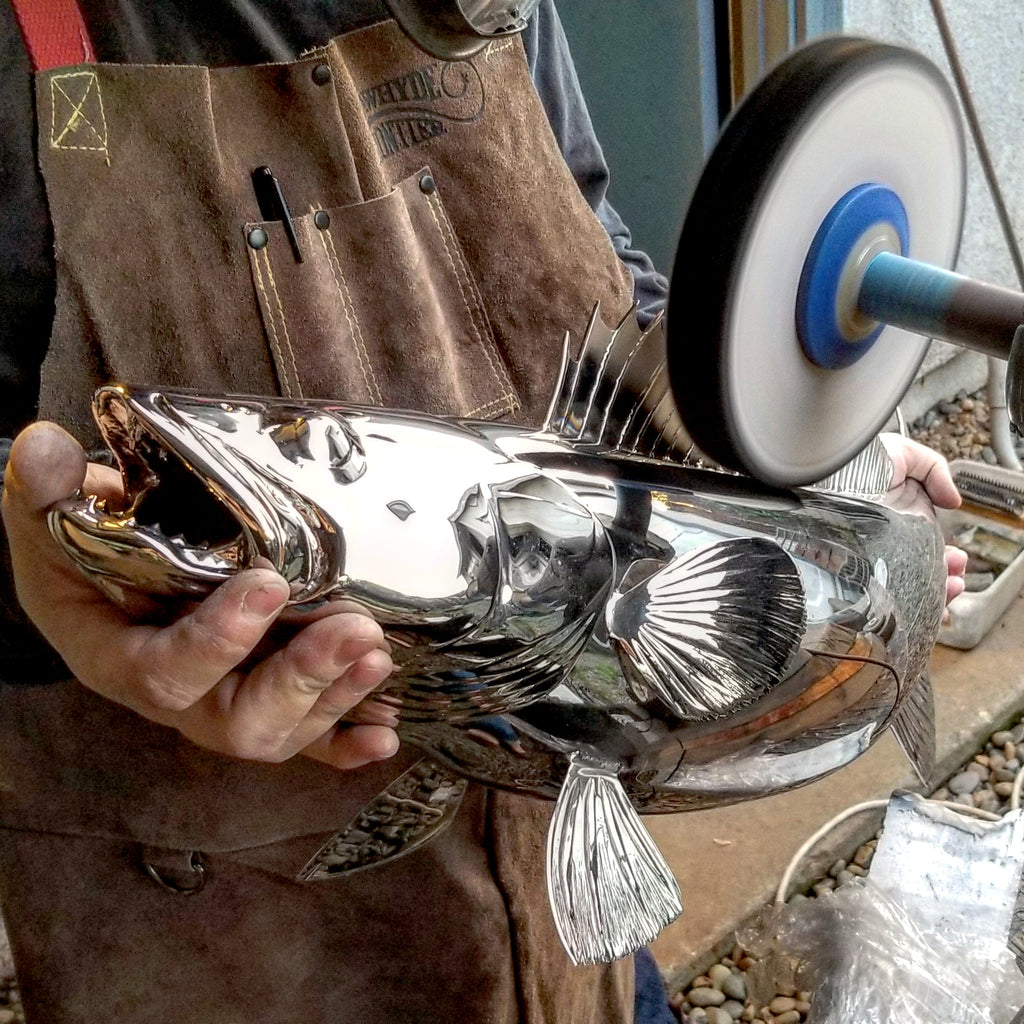 We are so excited to introduce to you one of our extremely talented customers. Steve Nielsen is a commissioned metal & airbrush artist who uses some of our products to create beautiful polished stainless steel sculptures.
His specialties are making hand shaped stainless trout and salmon. His latest masterpiece took 740 hrs to complete. It's a 30" stainless steel walleye fish sculpture. Steve donated over 600 hrs of this project, so that it can be auctioned off April 26th at the 30th annual Fish Futures banquet. The walleye proceeds will go to the fish and water conservation efforts. Steve's way of giving back to the community that's created a life time of experiences and inspiration for his art.
Steve used our buffing wheels and compounds to remove sanding scratches and bring the surface to a high luster mirror finish. We would love to talk with you about your polishing projects and which of our products would work best for you.
Take a look at some of his amazing work below.
A little more about Steve:
Steve Nielsen born and raised in Oroville California, which is Northern California, surround by lakes rivers and foothills. He grew up fishing and hunting a lot with his father, who was a fishing guide for over 30 years. It's no wonder most all of Steve's art shows the heavily influenced wildlife area he lives in and his experiences with his father.
Steve has always had a passion for the arts and creating things with his hands.
He has been welding and creating things from metal since 1984 when he took his first metal shop class as a freshman in high school. After high school Steve started his first business building custom vehicles and did so successfully for 18 years.
January 2013, Steve made  choice that he was going to spend the rest of his life mastering his passions for art. Including metal shaping and airbrushing.
In the past 5 years Steve has completed hundreds of metal sculptures. Including a life size polished stainless eagle that has over 4,000 individual feathers. This over 2,000 hrs to complete. He's developed a line of metal butterflies that he makes and paints hundreds per year. In 2017 Steve was commissioned to replicate an ancient Inca gold sungod. The original made of solid gold was estimated 19" wide. Using only a photo from Google, he built a 8ft x 6ft replica. That's now displayed in the high end restaurant, at the Godfrey hotel Boston.
 
Steve feels this is what he's always been meant to do, and the polished stainless walleye is just the beginning of many more elaborate sculptures to come.
 workwithsteve2014@gmail.com
 Facebook.com/SteveNielsenArtist
 Instagram.com/SteveNielsenArt
 Etsy.com/shop/SteveNielsenArt
THP Staff